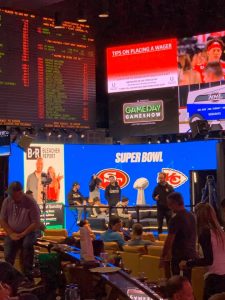 We are ready and getting comfy at Caesars Palace. We posted this past Wednesday that we're going with the 49ers and keeping the wager a sporting one. The season is over and we've had our shots, especially in the past season. This game is icing on the cake.
We watch the teams play week to week, as well as hearing and reading what people have to say on ESPN and NFL network among others. Watching week in and week out allows us to see a handful of ex players who know football but have no idea who the better team is and who will win.
Throughout the year, we watch every game be hyped out of proportion by these commentators. If they would stay with football and not try to be handicappers, they would be better off.
Despite all the hullabaloo, we're sticking with our pick of the 49ers because:
1) Joe Thomas has picked KC
2) Greg Rosenthal who replaced Elliot Harrison in the NFL Network likes KC
3 David Carr, Maurica Jones Drew, Gil Brant, and Jeremy Bergman have all picked the KC.
Given the picks made by all of the above men throughout the year, they shouldn't give up their day job.
The line has moved to – 1 1/2 KC and we will still stick with our 49ers pick.
Enjoy the game!
---